Golf Club History – Creating a Masterpiece on the Prairie
What was intended to be a three-hole golf course on a section of a family farm has grown into one of the most talked-about and celebrated private golf courses in the United States….Canyata Golf Club.
Just outside the quintessential American farm town of Marshall, Ill., Canyata (pronounced can-YAY-tuh) is a 7,200-yard stunner molded from the rugged and rolling farmland of east central Illinois by golf course architect Michael Benkusky.  Named the No. 2 Best New Private Course in the United States in 2005 by Golf Digest magazine (January 2006 issue), Canyata is definitely a very special place.
Originally Mr. Forsythe wanted to build only three golf holes (a par 3, par 4 and par 5) designed for the recreational use of his family and friends.  But it didn't take long for him and course architect Benkusky (who worked as the lead project designer for Bob Lohmann) to see that this lush farmland was hiding a gem of a golf course.  A spectacular nine-hole course opened in fall 2001, with the additional nine completed in fall 2004.
"It was an exciting project from the beginning," said Benkusky, who now operates his own course design company, Michael J. Benkusky, Inc., in Crystal Lake, Ill.  "Mr. Forsythe obviously wanted the best golf course he could have."
And "the best" is what was delivered to Mr. Forsythe, from Canyata's wide bent grass fairways (averaging more than 50 yards across) and large bent grass greens (averaging more than 7,000 square feet) to the natural beauty of woods and streams that explorer George Rogers Clark first experienced in the late 18th century.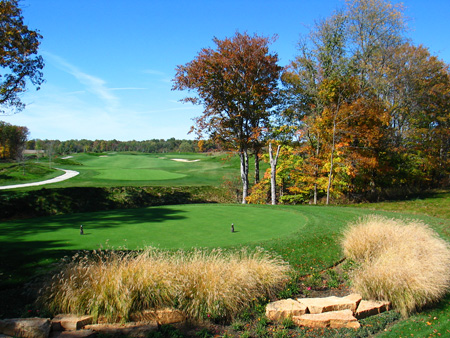 "We wanted the course to complement the site," Benkusky said.  "Tight fairways and small greens would have looked out of place.  We weren't going to trick up this golf course."
Indeed, there were no tricks needed to compose Canyata.  The land's unique mix of pristine pastures, rocky ravines and soaring woods were all Benkusky needed to create a masterpiece on the central Plains of Clark County.  The ravines come into play, for example, at the second hole, a 583-yard, par 5.  A forced carry (of 170 yards from the back tees) makes this a difficult driving hole.  The green on the second hole has a huge swale through the middle, reminiscent of the green of C.B. Macdonald's famed ninth hole at Yale Golf Club.
The 221-yard, par-3 third hole plays from one of the more picturesque spots on the golf course: high atop a hill overlooking the green, playing some 40 feet downhill and most often into a prevailing wind.
The seventh (360, par 4), eighth (234, par 3), 11th (480, par 4) and 16th holes (325, par 4) were each sculpted out of level pieces of farmland � sharp contrasts to a hole such as the 247-yard, par 3, 12th hole that is all carry over a ravine covered in shrubs and fescues.
Actually, most people can't even see a world-class golf course on the property at all, despite the fact Canyata is only four miles off Interstate 70.
"Mr. Forsythe wanted to block off everything from around the property," Benkusky said.  "We started building mounds (from the dirt dug to create the lakes) and kept building them higher and higher around the edges of the property."
Some of the mounds are 25 to 30 feet high, with several coming into play on the golf course, mostly to create corridors between the holes.
"From most of the holes you don't see another hole that might be next to you because were able to create those large mounds," Benkusky said.  "We had so much room on the property we were able to spread out the fairways.  We have corridors where there are two holes, whereas on other courses you might have four holes.  We were able to spread out those holes with the use of the mounding to kind of recreate the land form."
…And in the process, create a masterpiece on the prairie.